Unleashing the Magic: Spotting Disney Villains at the Parks!
Disney parks are known for their enchanting tales of heroes, princesses, and happily ever afters. But let's not forget the mischievous characters who add a thrilling twist to these stories—the Disney villains! From the wicked queens to the sneaky sorcerers, spotting these iconic baddies at the parks can be an exhilarating experience. Join us on a villainous adventure as we uncover the Disney villains you can encounter during your visit!

1. Maleficent:
Known for her striking presence and iconic horned headdress, Maleficent is a force to be reckoned with. Keep an eye out for her in the parades and shows, where she often makes grand appearances. You might even catch her in her fearsome dragon form during the spectacular nighttime show, "Fantasmic!"

Source: https://www.themeparkprofessor.com/2019/09/celebrate-maleficient-at-the-disneyland-resort/

2. Ursula:
The cunning sea witch, Ursula, is another Disney villain who occasionally graces the parks with her presence. Look for her in live stage shows like "Voyage of the Little Mermaid" or keep an eye out for her during special events like Mickey's Not-So-Scary Halloween Party. Don't be surprised if she tries to strike a deal with you!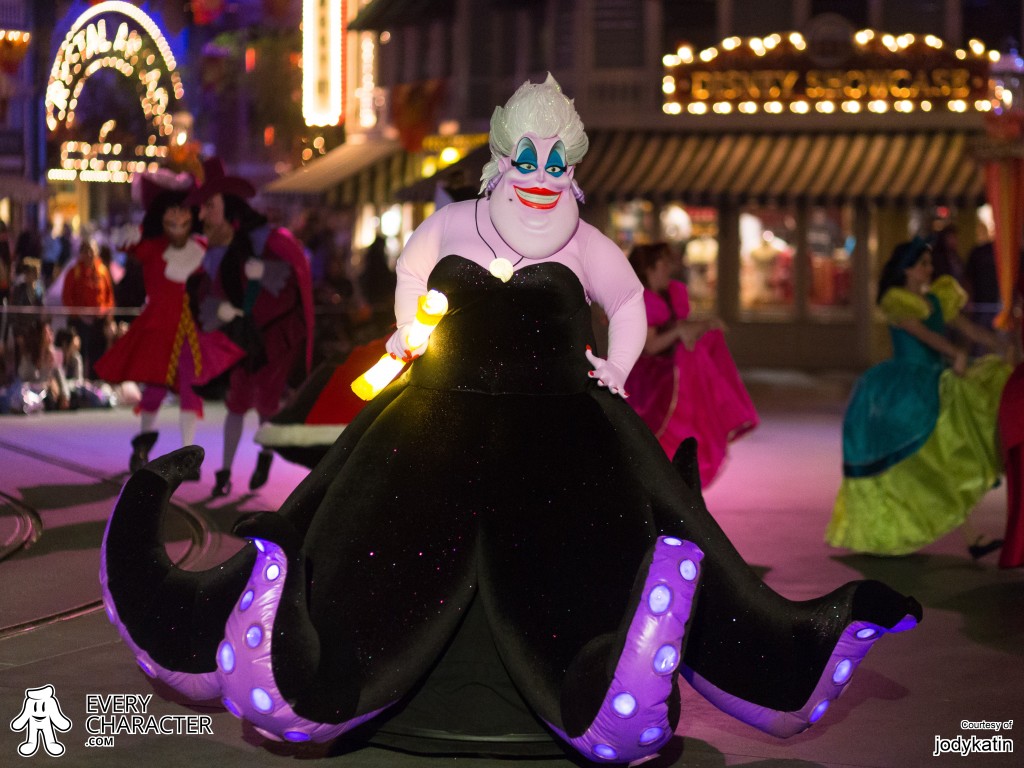 Source: https://everycharacter.com/character/ursula

3. Cruella de Vil:
Spotting the glamorous yet wicked Cruella de Vil can be quite a treat! Look for her during parades and character experiences, particularly at Disney's Hollywood Studios. With her distinctive black-and-white attire and signature two-toned hair, she's hard to miss. Just make sure she doesn't set her sights on your furry friends!

Source: https://www.charactercentral.net/Blog.aspx?BlogEntryId=228

4. Evil Queen:
Mirror, mirror on the wall, where can we find the Evil Queen of them all? Keep your eyes peeled for this regal villain at character meet-and-greets and special events like Mickey's Halloween Party. Don't let her enchanting beauty fool you—she's always on the lookout for Snow White.

Source: https://www.charactercentral.net/C100_DisneyCharacters_Villains_TheQueen.aspx

When visiting Disney parks, don't shy away from embracing your dark side and seeking out the infamous Disney villains. Whether it's Maleficent's imposing presence, Ursula's sinister charm, Cruella de Vil's audacious style, or the Evil Queen's icy allure, encountering these iconic characters adds an extra layer of excitement to your Disney adventure. Keep your cameras ready, your autograph books open, and prepare to dance with the villains!